It's easy, once the summer has ended, to give up on your garden and retreat indoors for winter. But autumn shouldn't have to mean less time outdoors. As long as you are prepared for the colder weather, outdoor living spaces can become a new kind of refuge for small and safe outdoor gatherings as cooler evenings set in.
Setting up your outdoor space for the season is key. The way you spend time in the garden during the summer will be very different to how you want to enjoy it the rest of the year. Autumnal outdoor living spaces need to reflect this. Add small touches to make them warm and inviting – a cosy garden seating area where you can still enjoy fresh air and nature without relying on sunshine.
Here are some top tips on how to transform your garden and outdoor living spaces this autumn.
Warm up your garden colour scheme
Bringing warmer colours into your garden can help increase the sense of cosiness and warmth. Deep reds, oranges and browns provide a rich, warm colour palette outside. As well as taking advantage of exposed brickwork or timber, you can use coloured cushions or throws to bring blocks of warm colour into the garden. Deep orange or mustard yellow are some of our favourites colour choices when it comes to autumnal blankets.
One of the most evocative autumn sights is the rich patchwork of colour that is created as the leaves change colour on the trees. Winter jasmine, dogwood and acer trees are all relatively compact, making them ideal plants for autumn colour, even in small gardens.
Take a virtual tour of Exbury Gardens near Southampton, which has one of the finest collections of acer trees in Britain
Warm your toes
When it comes to outdoor heating, there are plenty of options to choose from, including garden stoves, chimineas and fire pits. These come in all shapes and sizes, from small clay chimineas to sleek steel ones, and from upright basket fire pits to large open bowls. You won't struggle to find the right style and size for your outdoor space. Then all you need is a glass of wine – (is September too soon for mulled wine?) – and some marshmallows for toasting. If you ever get bored of gazing into the flames you can gaze at the stars instead.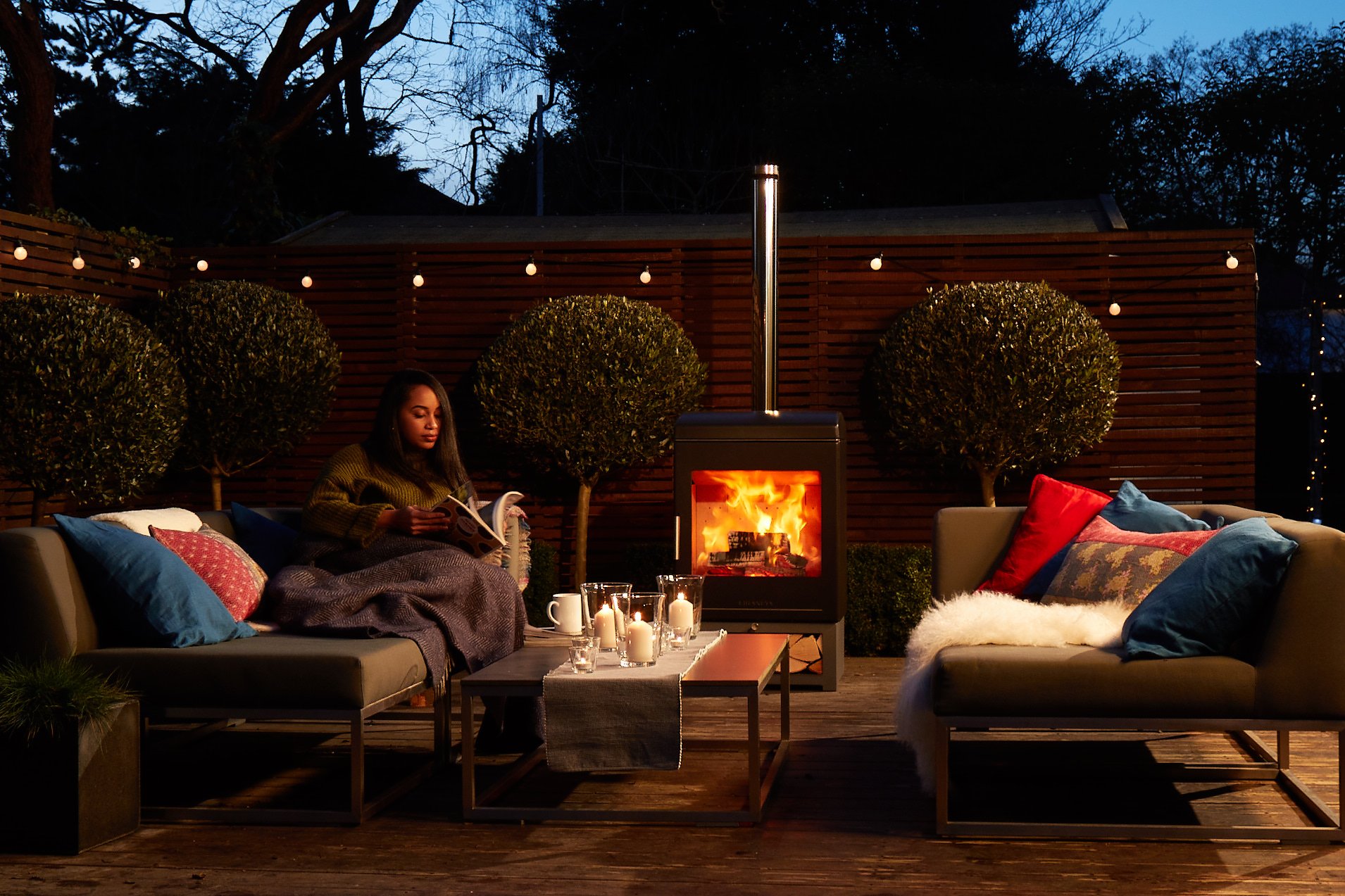 An outdoor stove like this can double as a barbeque in summer and a warming outdoor fireplace in autumn
Cover up
Shelter is important at this time of year. Whether it is a roof overhang above your decking area or a covered pergola, having something overhead will provide protection from the elements without meaning you have to head indoors at the first drop of rain.
Besides being useful in summer for shade, coverage overhead will also increase the warmth in the colder seasons, as it stops warm air escaping as quickly. If you don't have a permanent covered area in your garden, you could set up a temporary covering with a gazebo or craft simple garden sail with canvas fabric.
Get comfy
Adding soft textures is a quick and easy way to make your garden or outdoor space cosy. Weatherproof sofas are a great way to while away hours outside in comfort. Fill a basket or apple crate with warm blankets so there's one for every guest to grab and snuggle up. Extra layers of coloured or patterned blankets add to the texture and colour of the space.
If you accessorise with decorative cushions, opt for thick knits or soft velvet textures in maroons and deep purples. You may prefer to go for outdoor furniture covers if you don't fancy bringing them in each evening to protect them from bad weather.
Light it up
As well as flickering flames, cosy lighting helps set the scene as the night approaches. String outdoor fairy lights or festoon lights overhead to frame the space and set the mood. You could either set them up in parallel lines to create a uniform finish, or drape them in loops around trees or along the fence for a relaxed feel.
Plant for autumn
If you love pottering around in the garden, there is plenty to keep your green fingers busy during autumn. Strategic planting not only ensures you have plants that thrive at this part of the year, it also allows you to build your colour scheme throughout the garden. Plan your planting to include plants for autumn interest, such as sunny helianthus, breezy Japanese anemones and little cyclamen. It is also worthwhile including some evergreens into your garden to ensure you have foliage throughout the year, providing a backdrop for your autumn colours as deciduous shrubs die back.
Celebrate the season
Autumn is characterised by festivals, with Halloween and Guy Fawkes Night coming in close succession, not to mention harvest festivals. Consider embracing this part of autumn by incorporating pumpkins or autumn wreaths into your outdoor décor. Try this simple autumn wreath DIY using shop-bought twig base and some fresh leaves, berries and flowers from your garden or florist.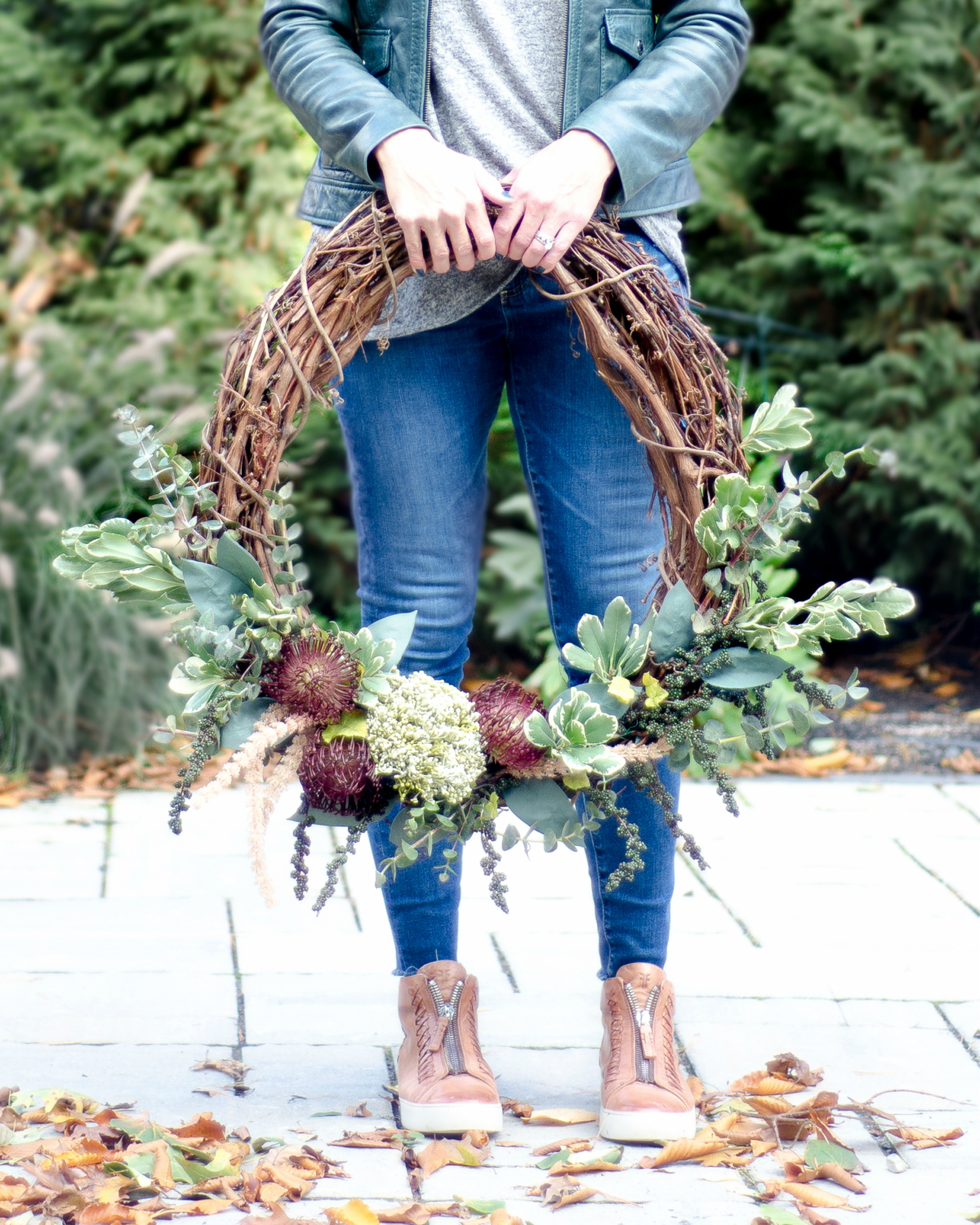 Start entertaining
Once you have your outdoor living space set up for autumn, there is nothing left but to invite your friends over to enjoy it. Entertaining guests is one of the best ways to appreciate the space you have and it makes all the hard work feel worthwhile. Be sure to send us photos of your cosy outdoor living spaces. We love seeing our customers making the most of our beautiful, warm blankets. That's what makes all our hard work feel worthwhile too.  
---