Pancake Day is just around the corner! We thought it would be nice for Janine, our intern and resident recipe creator and food blogger, to share one of her favourite pancake recipes. We've also added a few of our go-to comfort food recipes that we have been cooking. 
How to make the perfect pancakes
This is an American style pancake recipe and they really do taste just like a cake. This recipe leads to pancakes that are super rich and fluffy making it a luxurious treat. Keep reading for the full recipe below. 
Lemon and Mascarpone Pancake recipe with Mixed Berry coulis
Serves 2 people or 1 hungry person!  Makes 6 – 7 little pancakes. 
For the pancakes:
Dry ingredients 
75g of flour 
2 tablespoons of sugar 
1 teaspoon of baking powder 
Pinch of salt 
Zest of 1 lemon 
Wet Ingredients 
120ml of milk 
150g of mascarpone 
2 tablespoon of vegetable oil 
1 teaspoon of vanilla extract 
Egg whites from 1 egg 
Butter or oil for frying 
For the coulis: 
A large handful of mixed berries, fresh or frozen 
1 tablespoon of caster sugar 
1 tablespoon of lemon juice 
Method: 
Sift

 the dry ingredients together (flour, sugar, baking powder, cinnamon, salt), then add the lemon zest.

 


In a separate bowl, whisk the 

wet ingredients (

milk, mascarpone, 

oil

 and vanilla extract

)

.

  

 


Whisk the wet and the 

dry ingredients together until incorporated.

In another bowl, whisk the egg white until it forms stiff peaks. 


Add the egg white 

gently to the batter, folding the egg whites until

 incorporated.

 


Let the batter sit (for around 20 minutes) and make the co

ulis.

 


 If using frozen berries, defrost the berries on the hob until 

they have melted, add 1 tablespoon of water 

to thin out if necessary.

 


Once the berries have 

defrosted and stewed a little, 

blend them in a food processor or blender.


Sieve 

to remove the seeds. Add juice

 from 1 lemon

 and 1 teaspoon of sugar and put the mixture on the heat again to 

warm the mixture up.

 


Heat a non-stick pan

 over a medium heat and

add knob of butter to melt.

 


Using a ladle place the pancake batter into the pan.

 


Cook until 

bubbles form at the top of the pancake

 and the bottom is golden brown. Flip

 the pancakesand cook until golden.

 


Serve the pancakes tracked with the berry coulis.

 
If you do not fancy making your own coulis, you can also buy it premade. Our favourite is the Waitrose Scottish Raspberry & Vanilla Coulis as it is the perfect accompaniment for the zesty rich pancakes. You can even try serving your pancakes with a variety of different toppings, such as lemon and sugar, Nutella and banana, or even bacon! 
The best comfort food recipes for cold days
These comfort foods will warm you up from the inside - from easy brunch recipes to vegan comfort food, warming stews and hearty pasta dishes to even a dish or two for those with a sweet tooth! 
 Shakshuka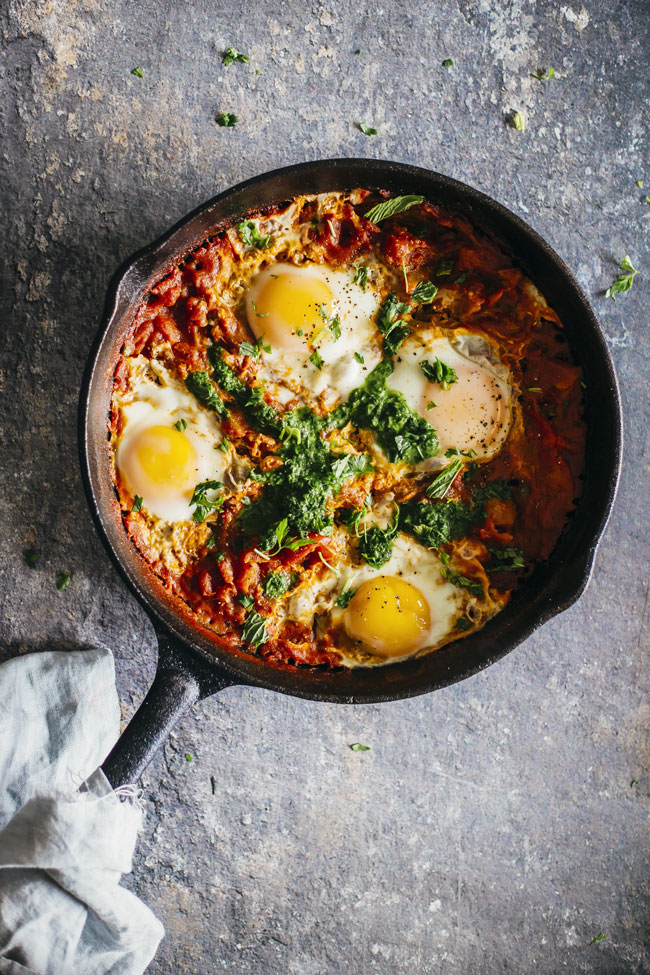 We love this rich Shakshuka recipe and it's perfect for a lazy hearty brunch on a Sunday morning. Serve with crusty bread or pittas for the ultimate comfort food breakfast. 
TIP: Use up any leftover tomato sauce that you have from the week and jazz it up by adding fresh herbs. Make it vegan by switching the eggs for vegan yogurt or silken tofu. 
Mushroom Gnocchi with Thyme

 

This mushroom gnocchi recipe is perfect for a weeknight as it just uses shop bought gnocchi, olive oil or butter, onion, garlic, a splash of wine and some seasoning. It doesn't take long to make either, which makes it ideal to eat after a long day. 
We are a big fan of quick and simple healthy comfort foods. One of the recipes that we have been enjoying lately has been this pasta dish. It is the perfect comfort food for cold weather.  It can easily be made vegan, by omitting the mozzarella and anchovies.  
 

Kale chickpea stew

 
This kale and chickpea stew is perfect for a hearty lunch! What we love about this dish is it can easily be veganised by switching the parmesan to a vegan alternative, such as nutritional yeast. 
Rhubarb Almond

 

cake

There isn't much we love more than an almond cake. This rhubarb and almond cake is relatively easy to make and is very aesthetically pleasing. The tart rhubarb cuts through the rich marzipan flavours from the almonds and really brings this dessert to life. A delicious sweet treat to enjoy on a cosy evening, especially when wrapped up in one of our XL throws. 
Chocolate Maple Banana cake

For those of you with a sweet tooth, this recipe is one for you. This chocolate and maple banana cake is served with a ganache made from just sour cream and dark chocolate. It looks and tastes luxurious, but is easy to make. 
For more delicious recipes, make sure you're following our mouth-watering recipe boards on Pinterest!

 
---