We've all seen pictures of gorgeous summerhouses and pined for a similar space of our own. If only we had a larger garden or bigger budget. And yet perhaps the solution is right under our noses.
The humble garden shed is often overlooked, taking up a scruffy corner of the garden, piled high inside with broken flower pots and rusting tools. However, the tide is turning, as more and more lpeople eye up the forgotten tool-shed as the potential for a luxury garden hideaway. All the glamour of a summerhouse – on a smaller scale of course. In short –a She Shed.
Image credit: Alitex styled by Selina Lake
What is a She Shed?
Simply put, a She Shed is an opportunity to reclaim the man cave. To clear the cobwebs, rehouse the lawnmower and transform a utilitarian space into a beautiful garden room. A place to relax, enjoy a cuppa, create, read or whatever you need to enjoy a few moments peace. It could be a place to pursue a hobby, or even a garden office. A sanctuary to call your own, away from the everyday life of home.
So here are some She Shed interior ideas to get you started on turning your ordinary garden shed into a chic retreat.
1) Soft edges
Sheds are characteristically rough and unpolished - constructed of hard surfaces and bare wood. Using soft furnishings will add texture and comfort. Whether a blind for the window, soft blankets and cushions, or a rug for the floor, there are plenty of shed interior ideas that add that well-needed feminine touch. Pick a theme and consider how the different textures and patterns will compliment one other before you start.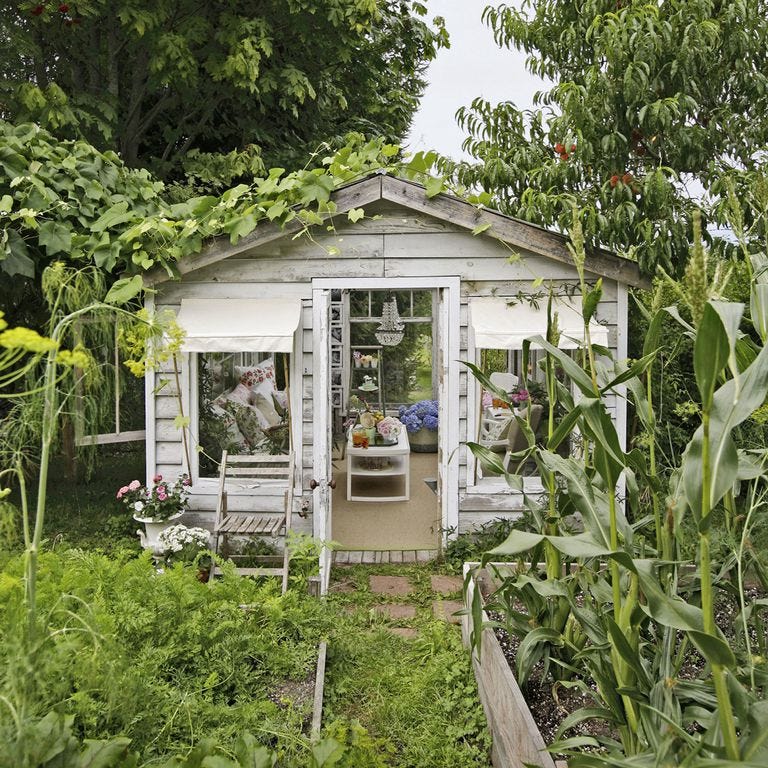 Image credit: Janis Nicolay
 2) Feminine colours
The choice is yours whether you go for country rustic or beach hut chic when it comes to your She Shed decor. But whatever style you choose, you will want to make the room feel less shed-like with a fresh, feminine colour scheme. All-white is most versatile, but you could also try duck egg blue, mint green or rose pink to complement the garden surroundings. Vintage florals or delicate prints transform the interior into a relaxing, luxurious space. If you don't want to paint the walls, you can add prettily painted furniture or fabric covered pin-boards on the wall to introduce blocks of colour.
Image credit: Junkaholique
3) Making the most of a small space
 Another core characteristic of a garden shed is its tiny size. Take this as a chance to get creative with space. Depending on how you plan to use your She Shed, you will probably have books or craft materials to store. Imaginative use of storage such as drawers under built-in seating, hooks and bookshelves in the eaves can help make the most of the space. Choose small items of furniture and small pictures or ornaments to avoid overloading the space.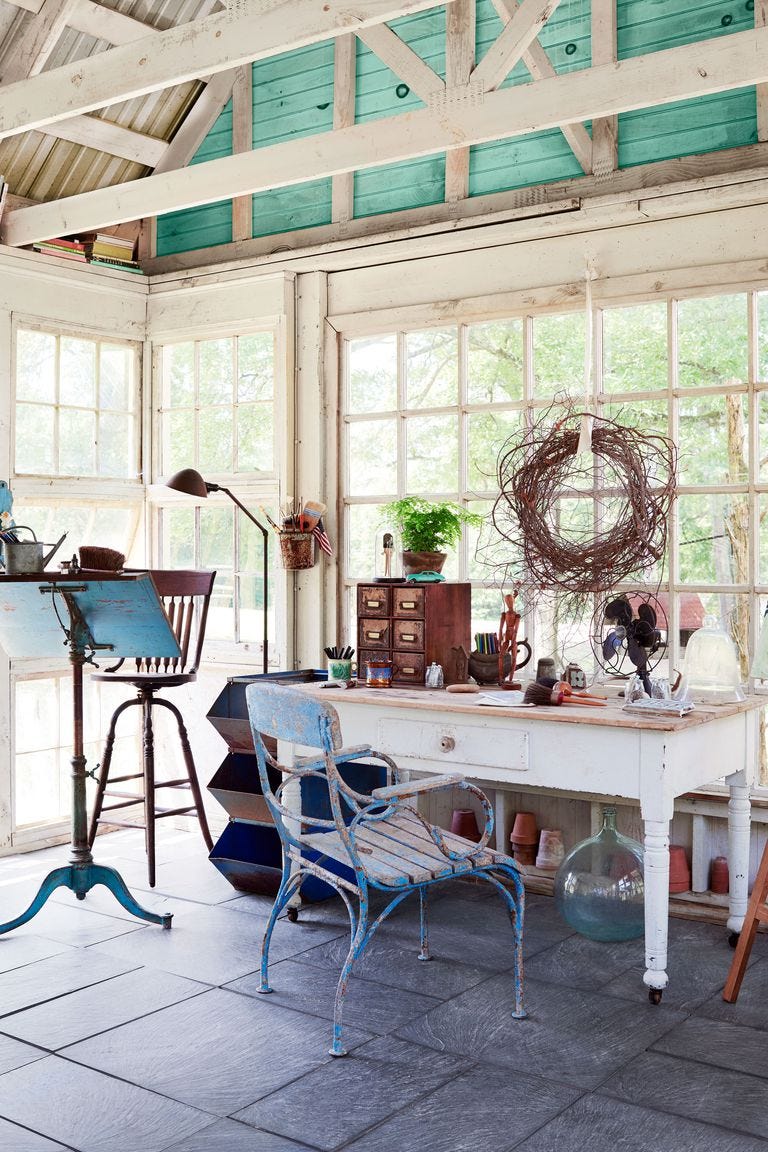 Image credit: Brian Woodcock
4) Comfortable seating
To further push back against the traditionally rough, practical nature of a shed, make your She Shed as cosy as possible. Include an armchair – or even a small sofa if you have space. Be sure to have a blanket or two stashed there to keep you cosy when it gets chilly. As long as you are warm and dry, sitting in your garden hideaway with the rain pattering down outside will only make the experience feel more exclusive. A Meadow Check throw will work well with a feminine colour palette (from choose yellow, pink, ink blue or grey) adding soft textures to a rustic space.
Image credit: Lobster and Swan
5) Time for a tea break
You may not have electricity or water in your shed. But for the space to become a true hideaway, it is worth setting it up with some essentials, to save trekking back to the house for a cuppa. Make sure you have a selection of nice tea bags and some pretty mugs, as well as luxury biscuits for those peckish moments.
6) Upcycled furniture
Sheds are often used for fixing and mending, so what better location for some upcycled furniture. If you are particularly handy, you could make built-in seating with storage underneath, or construct a little coffee table yourself from pallets. For those who are less confident with a saw, you could scour vintage shops for pretty items that can be sanded, painted or recommissioned.
 Image credit: Arno Smit
7) Plant life
Finally, this is, of course, a garden space first and foremost. So it is a nice touch to bring a bit of your garden inside with well-chosen pot plants or a vase of freshly cut garden flowers. If you are going for a more rustic look you could opt for a hanging plant such as a Ceropegia Woodii, or even hang dried herbs or flowers from hooks on the wall.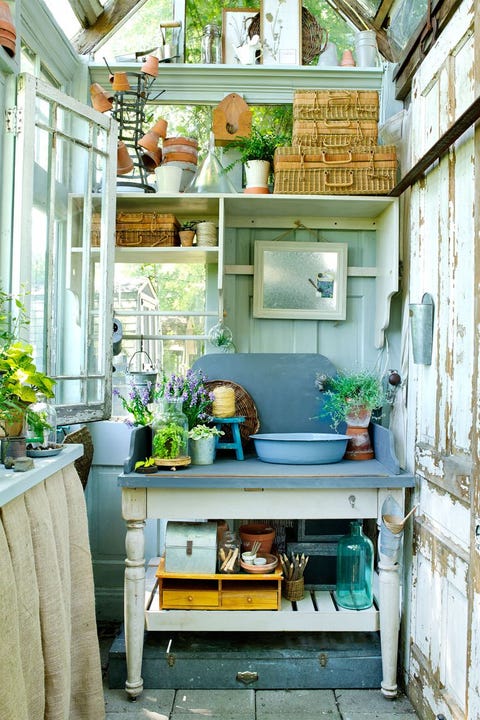 Image credit: Gridley & Graves
Share your shed interior ideas
We adore the She Shed trend and would love to see some of your shed interior ideas. Connect with us on Instagram to share your images and follow our Garden Rooms Of Dreams board on Pinterest for more inspiration.
---